We strongly believe in breaking away from the stereotypical heritage fanfare and "Bed in a box" mentality that runs in Rajasthan, and deliver innovative yet responsible hospitality. "Living Space" refer to unobtrusive but luxurious abodes that are in sync with their natural surroundings. These Living spaces that thus adorn this pristine landscape derive their inspiration from the three elements of nature; Air, Water & Earth.
The 20 Tree house Nests showcase the element of air and finely blend the comforts and luxuries of a five-star room with nature in its pristine prime. Perched atop "keekar" trees, these nests are christened after the various birds found in the area and have several live branches running through the rooms making nature omnipresent in the Lap of luxury. Several winged visitors of all hues and shapes, chirp merrily outside the Nests' windows to be Nature's morning alarm call.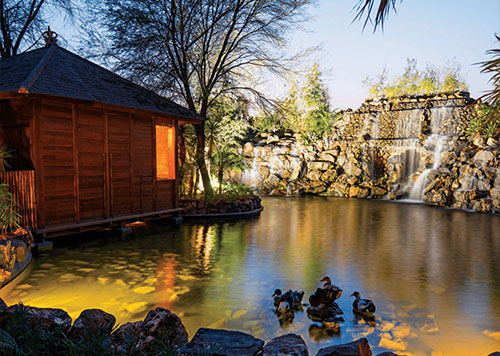 The element of Water is championed and showcased through 9 exclusive over-water suites which display an elegant amalgamation of utmost luxury with nature in its pristine prime. From cascading waterfalls to Jacuzzis, outdoor showers, private patios and glass floor sections to view the marine life below; it transports the tired urban minds into a state of complete bliss.